PC-Concrete ™ Anchoring and Crack Filling Epoxy— is the epoxy chosen to repair cracks in warehouse and factory floors. Dispense and apply using a standard size caulking gun. Cures hard enough to drive over within 3 hours at standard temperature. Nothing stronger for your anchoring applications. PC-Concrete™ is a two component (1:1 ratio), 100% solids, high modulus, and structural epoxy paste. PC-Concrete™ is a solvent free, no odor, high strength, moisture insensitive epoxy system. The resin and hardener are uniformly dispensed from a 9 ounce cartridge system and mixed through a mixing nozzle using a standard size caulking gun. (We recommend at least an 18:1 thrust ratio). PC-Concrete™ is also provided in a 22 ounce dual cartridge system for Contractors and Professionals. This size requires a 600ml high thrust dual cartridge dispensing gun. For filling larger cracks and cavities use the 102 ounce bulk kit. PC- Concrete™ will NOT SHRINK. Suitable for Interior and Exterior applications. Can be applied to WET & UNDERWATER surfaces.
Here are just a few specific uses (there are many other uses):
Anchor into marine docks above or below water line

Anchor equipment to floors

Bond to pre-stressed floors

Anchor into stone and rock.

Install anchor bolts for sill plates

Anchor into foundations and block

Fill cracks in concrete allowing equipment traffic In 4 hours

Anchor into concrete railroad ties

Anchor HVAC equipment to concrete pads and roofs

Waterproof floor to wall cracks
Re-anchor railing at convention center or apartment building

Anchor seats in lecture hall or theaters

Repair broken concrete in shopping mall parking garage

Fill spalled concrete in car wash

Fix fork truck damaged concrete in warehouse

Seal crack in sanitation and chemical storage facility containment area

Repair floor in fire station garage

Anchor safe to floor prison and security pickproof epoxy

Anchor machinery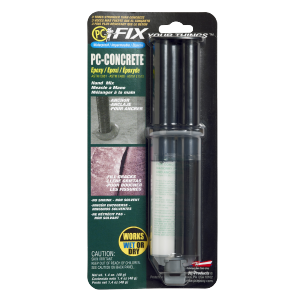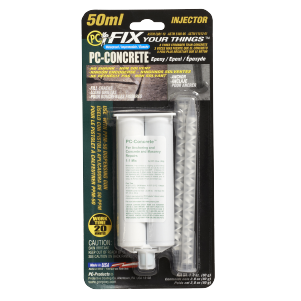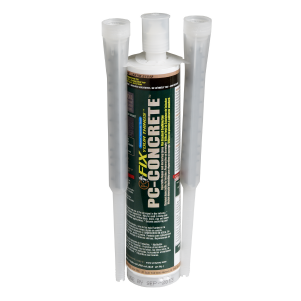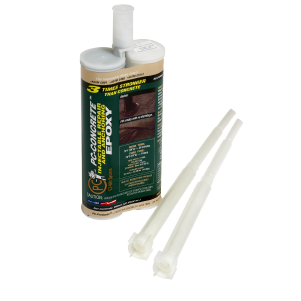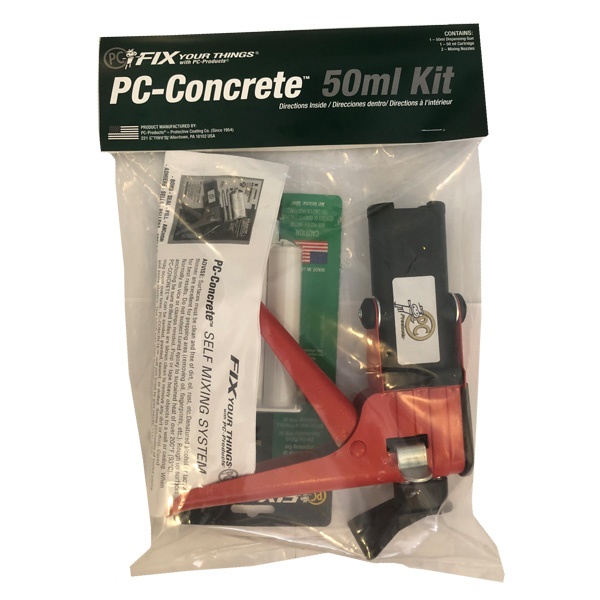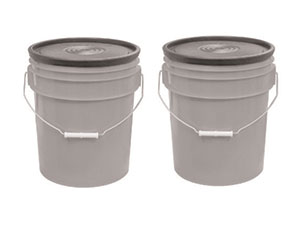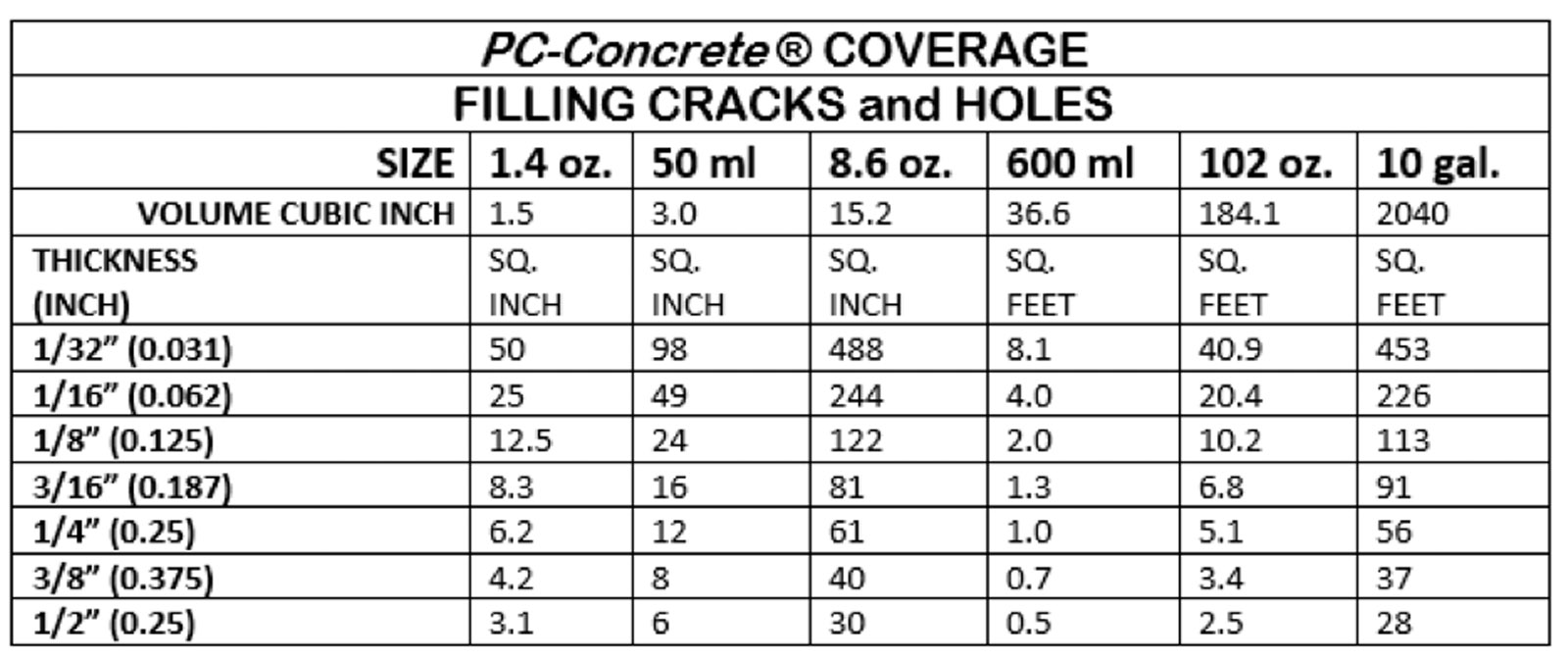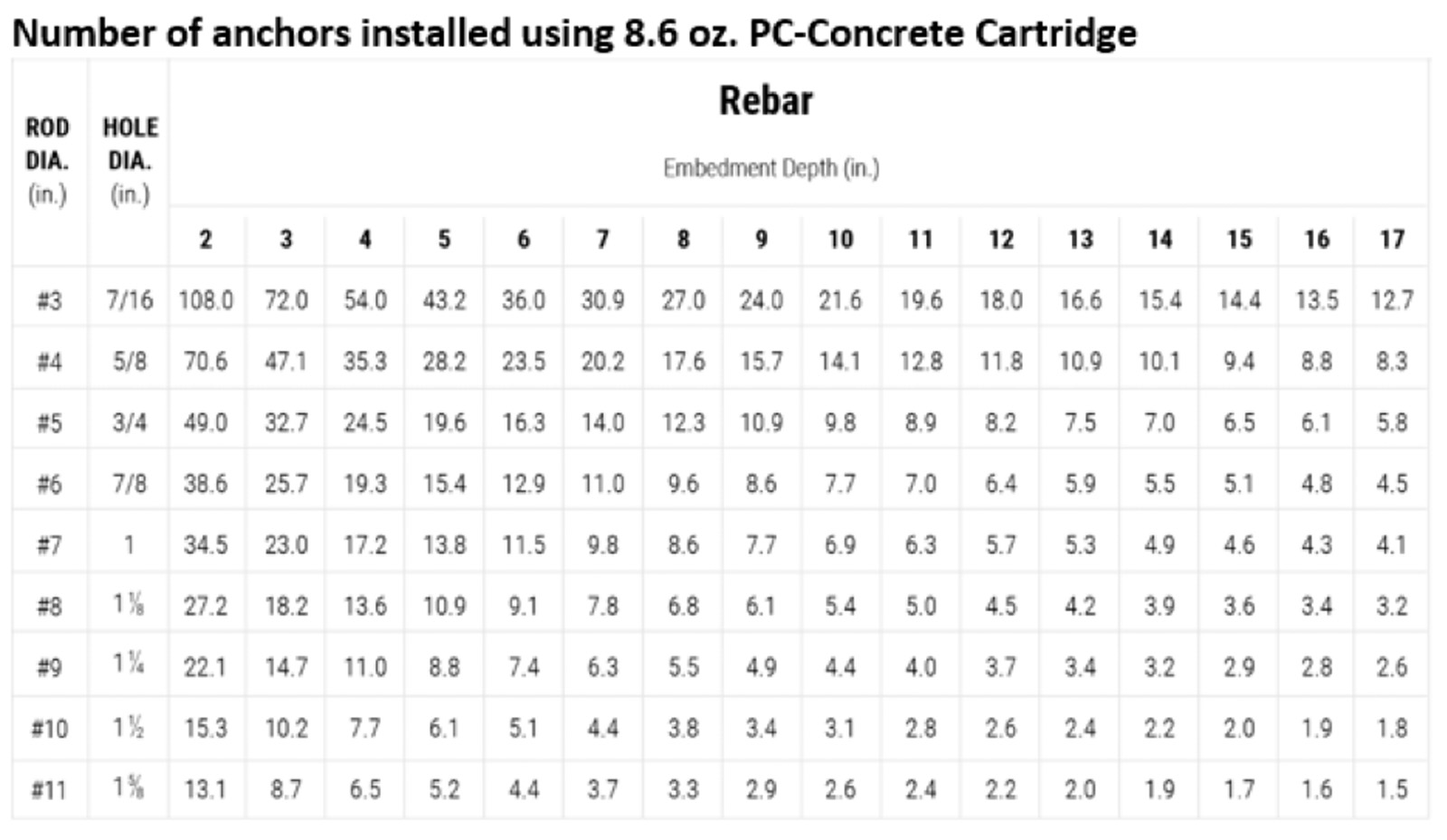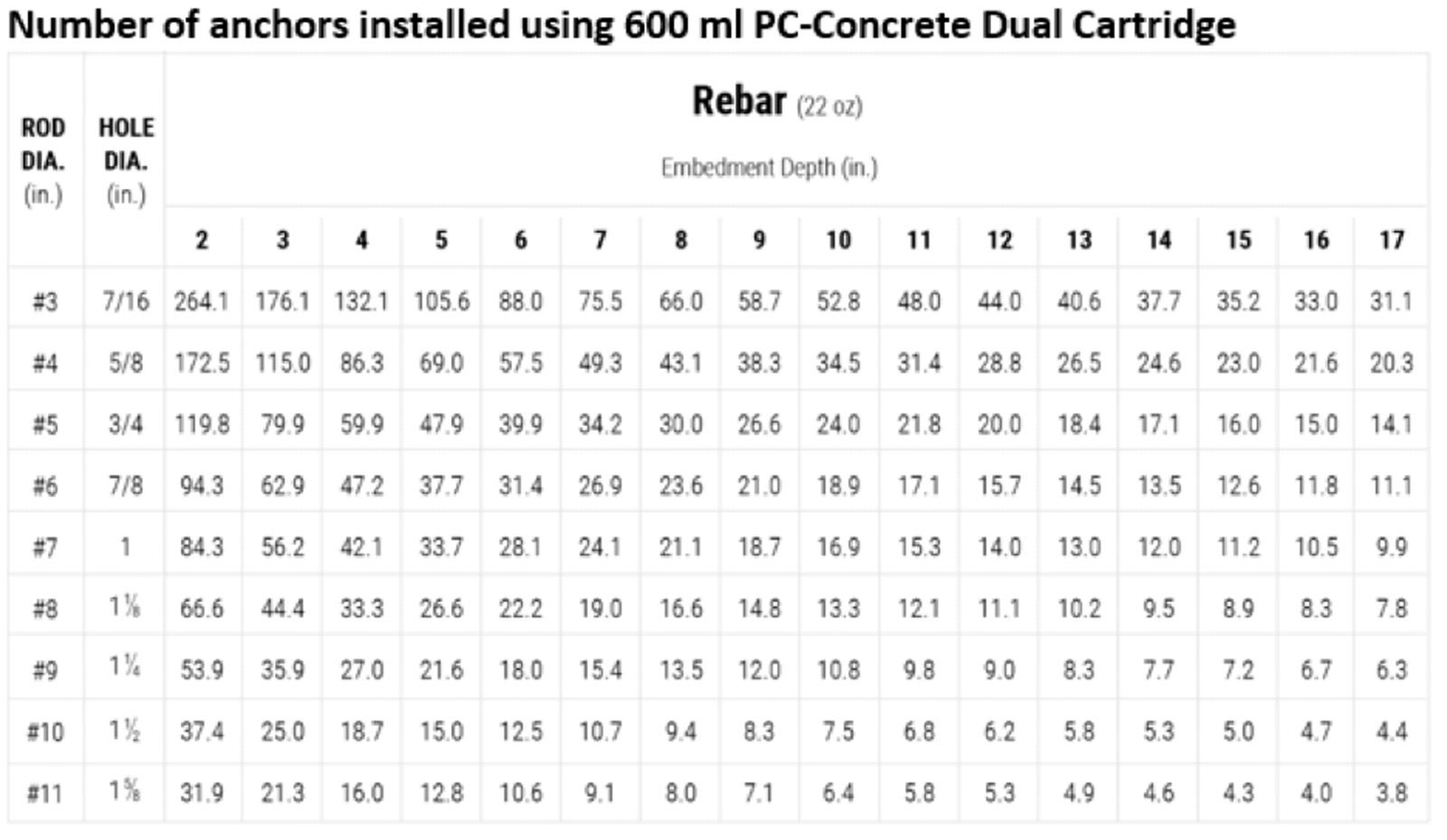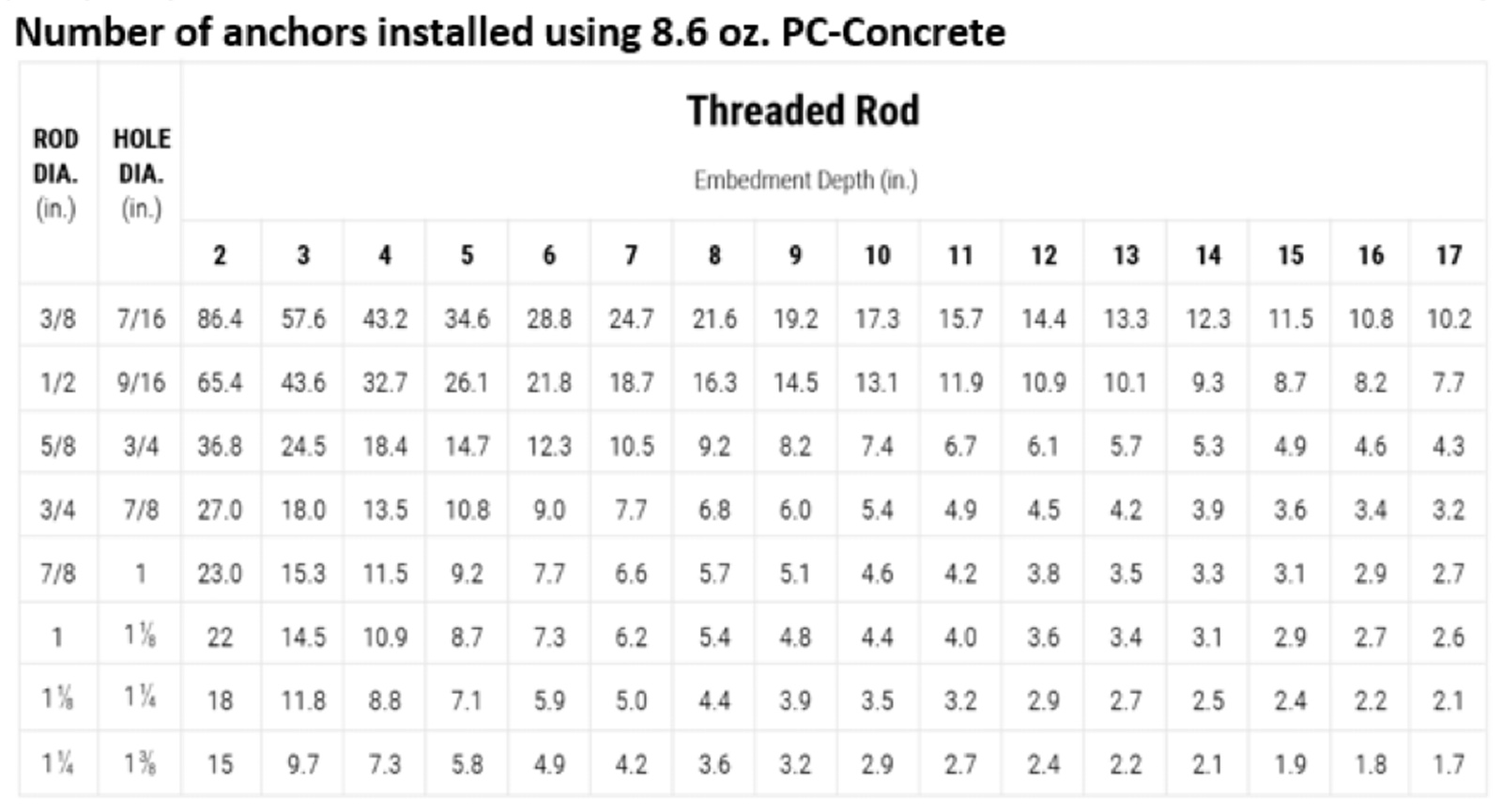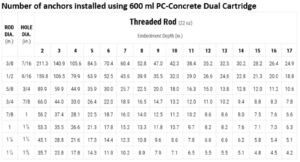 How to prepare a surface for bonding with PC-Concrete™
Old concrete must be clean and profiled or textured. Surface must be clean and sound. It may be dry or damp, but free of standing water. Remove contaminants such as dust, dirt, oil and grime with a solvents such as denatured alcohol (ethanol), acetone, rubbing alcohol (isopropyl alcohol) or lacquer thinner. Mild detergent solution in water is also good removing contaminants. Use a clean paper towel or rag for wiping. Do not use mineral spirits or paint thinner for removing contaminants. New concrete should be a minimum of 21 days old.
Prepare the surface by rough-grinding, scarifying or by using other equipment that will give a roughened profile. A roughened surface is imperative for good adhesion. Always be sure the bonding surfaces are prepared in advance before mixing product. When using the Bulk units, mix only enough PC-Concrete™ that can be used within 10 minutes at 75°F (24°C). Remove rust and loose paint with sandpaper or wire brush. Epoxy typically sticks to most paints. If there is a concern of the paint's adhesion then remove it with sandpaper or wire brush. Smooth, glossy and shiny surfaces should be roughened using sandpaper to increase adhesion.
How to prepare a hole for anchoring with PC-Concrete™
Using a rotary hammer drill and bit that is the appropriate size for the anchor diameter to be installed, drill the hole to the specified embedment depth. CAUTION: Always wear appropriate personal protection equipment (PPE) for eyes, ears & skin and avoid inhalation of dust during the drilling and cleaning process. Refer to the Safety Data Sheet (SDS) for details prior to proceeding. The hole may be dry or damp, but free of standing water. Using oil free compressed air and blow out the debris with an up/down motion for a minimum of 4 seconds/cycles (4X). Select the correct wire brush size for the drilled hole. Reaching the bottom of the hole, brush in an up/down and twisting motion for 4 cycles (4X). The brush should contact the walls of the hole. Blow the hole out once more to remove debris. Visually inspect the hole to confirm it is clean.
How to clean-up after PC-Concrete™ application
Clean up mixed epoxy before it cures with paper towels and solvent. Denatured alcohol (ethanol), acetone, rubbing alcohol (isopropyl alcohol) or lacquer thinner are suitable solvents for removing uncured epoxy. Cured PC-Concrete™ can be removed with paint stripper or remover.
Is PC-Concrete™ fast curing? What is the gel time? How long until bolt down?
PC-Concrete™ is fast curing. Make sure to prep the crack or anchoring before extruding or mixing the epoxy. 15 minutes time will cause the mix nozzle to get thicker and cure. Typical gel time in bulk is 13 minutes. Bolt down time at 70°F is 3 hours.
Does PC-Concrete™ work in damp conditions?
PC-Concrete's™ cure is not affected by water or dampness however adhesion is best in dry conditions. Application to a wet surface is possible but more difficult and with potential reductions in adhesive strength.
Does the nozzle need to be removed in between uses? Can the nozzle be reused or cleaned?
Leave the nozzle on the cartridge until the next usage. Do not transfer a used nozzle to another cartridge. Mix nozzles cannot be cleaned and recycled. Two mix nozzles are provided with each cartridge.
Is PC-Concrete™ a liquid or paste? Can it be used to anchor into a wall? Can PC-Concrete™ be used to fill a hole in the wall?
PC-Concrete™ is not considered a paste. It will flow or drip making vertical applications difficult. It is suitable for wall anchoring but not for filling large voids or cracks in walls.
The paint manufacturer does not recommend a primer. Will the paint stick to PC-Concrete™?
A primed and sealed surface is preferable to painting a cured epoxy surface directly. Finish coats may interact with the cured PC-Concrete™ and potentially cause problems. Use a premium stain sealing primer.
Does PC-Concrete™ comply with construction codes for anchoring?
Check and make sure that PC-Concrete™ is an approved anchoring adhesive before using. Specifications and codes vary depending on the location and conditions. PC-Concrete™ is not a substitute for anchoring applications in cracked concrete. Instead choose PC-Concrete PRO, it has all the codes and is approved for anchors installed in cracked and un-cracked concrete, wet or dry.
How can a crack in a concrete deck be repaired? Should the crack be ground out?
Narrow cracks are more difficult to fill than wide cracks. Use an appropriate grinding device to open narrow cracks sufficiently and fill with PC-Concrete™. Caution: Be sure to wear Personal Protective Equipment. Fill deep cracks partially with sand or backer rod.
Can PC-Concrete™ be used to repair a concrete driveway?
PC-Concrete™ is a high modulus epoxy. It will not expand and contract. Exterior applications of PC-Concrete are not advised when excessive movement is anticipated due to changing environmental conditions.
The cartridge is stuck halfway. Why won't it go further?
The 9 ounce cartridge has two separate chambers – one for the epoxy resin and the other for the epoxy hardener. At the midpoint both chambers have been exhausted and the cartridge is fully emptied.
The cartridge does not extrude. Is there something wrong with the cartridge?
Not all caulking guns are the same. PC-Concrete™ should be applied using a high thrust caulking gun. Guns with less thrust require greater exertion. Count how many strokes the caulking gun trigger must be squeezed in order for the rod to travel the entire length. High thrust guns have greater than 50 strokes, weak guns are half that. Note: Cool temperatures increase the viscosity of the epoxy and make it more difficult to extrude. Warm the cartridge prior to using in cold environment.