PC-Pool™ Putty Epoxy is a fast curing general purpose putty for repairs to swimming pools, saunas, Jacuzzi, hot tubs and boats. Cures hard within 30 minutes to make rapid repairs. Easy mixing without need of tools or measuring. Great putty feel for sticking quickly and easily to surfaces.
Here are just a few specific uses (there are hundreds of other uses):
Fix cracked swimming pool hair-trap

Seal cracks and cavities in cement, plaster, fiberglass, gunite and marcite
Attach tile in hot tub

Seal cracked decking and reduce trip hazard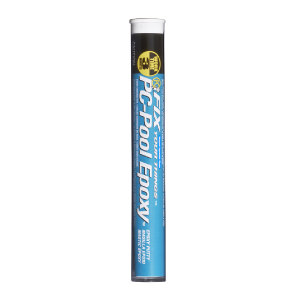 How to prepare a surface for bonding with PC-Pool Epoxy™
Remove contaminants such as loose or soft plaster, gunnite or cement. Clean dust, dirt, oil and grime with a solvent such as denatured alcohol (ethanol), acetone, rubbing alcohol (isopropyl alcohol) or lacquer thinner. Mild detergent solution in water is also good removing contaminants. Use a clean paper towel or rag for wiping. Remove rust and loose paint with sandpaper or wire brush. Epoxy typically sticks to most paints. If there is a concern of the paint's adhesion then remove it with sandpaper, wire brush or paint stripper. Smooth, glossy and shiny surfaces should be roughened using sandpaper to increase adhesion. Adhesion to wet or damp surfaces can be improved by wiping with alcohol. Do not use mineral spirits or paint thinner for removing contaminants.
How to clean-up after PC-Pool Epoxy™ application
We recommend wearing disposable gloves when mixing and applying epoxy putty. Remove from skin with soap and warm water. Clean up mixed epoxy before it cures with paper towels and solvent. Denatured alcohol (ethanol), acetone, rubbing alcohol (isopropyl alcohol) or lacquer thinner are suitable solvents for removing uncured epoxy. Cured epoxy can be physically removed by prying off with a screw driver or pliers. It can also be removed with paint stripper or remover.
Can PC-Pool Epoxy™ be applied underwater?

It is possible to apply PC-Pool Epoxy™ underwater but it is difficult to make the putty stick to its designated substrate. The mixed putty must be forcibly pushed against the surface in order to make contact.
Can PC-Pool Epoxy™ reattach pool tiles?
PC-Pool Epoxy™ is excellent for quickly and permanently replacing or reattaching pool tile.
Does PC-Pool Epoxy™ stick to fiberglass? Vinyl?
PC-Pool Epoxy™ sticks to fiberglass but not to vinyl. Rough up the fiberglass surface with sandpaper and wipe clean with solvent then mix and apply.
Can PC-Pool Epoxy™ be used in a salt-water pool?
Yes, PC-Pool Epoxy™ is resistant to salt water and can be used for salt-water repairs.
Can PC-Pool Epoxy™ be sanded and painted?
Most pool paints can be used on PC-Pool Epoxy™ but use a stain sealing primer to be certain.
Does PC-Pool Epoxy™ stick to gunite?
PC-Pool Epoxy™ has excellent adhesion to gunite and works great to fill divots and cracks.
How long should PC-Pool Epoxy™ be mixed before applying?
PC-Pool Epoxy™ is fast curing so it is best to mix small portions for 45 to 60 seconds and apply immediately.
I unwrapped the putty, applied it, and it did not cure?
PC-Pool Epoxy™ must be thoroughly mixed. Unmixed putty must be removed and discarded or mixed and reapplied.
It is not very white. Some might call it gray
PC-Pool Epoxy™ is not a pure white color. It is off-white with grayness.
It is messy and has an odor
Wear disposable gloves and keep fingers clean. The odor stops after it cures.