PC-Fast-N EZ™ is an extremely flexible translucent paste epoxy. Ease of use is the key with this self-mixing formulation. PC-Fast-N EZ™ flows beautifully through a static mix nozzle that mixes the epoxy thoroughly. The mixing nozzle doesn't just mix the product; it also helps with precise applications. PC-Fast-N EZ™ has a fast cure time, making jobs complete and easy as 1-2-3!
Bonds most everything to anything.
PC-Fast-N EZ will not bond to wax paper, Teflon®, Polyethylene, and many other plastics. There are hundreds of plastics in thousands of combination. Test a small area when in doubt.
Here are just a few specific uses (there are hundreds of other uses):
Repair shoe sole and re-bond to shoe.

Reattach rearview mirror bracket.

Repair split door jamb.

Apply decals to fiberglass or metal.
Attach metal or wood tack strip to concrete floor.

Fix chairs and stools.

Fix cabinet drawers and doors.

Crafts and hobby uses.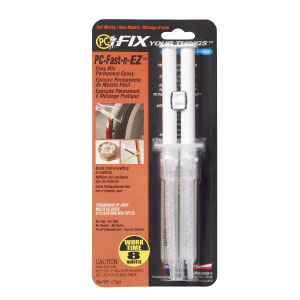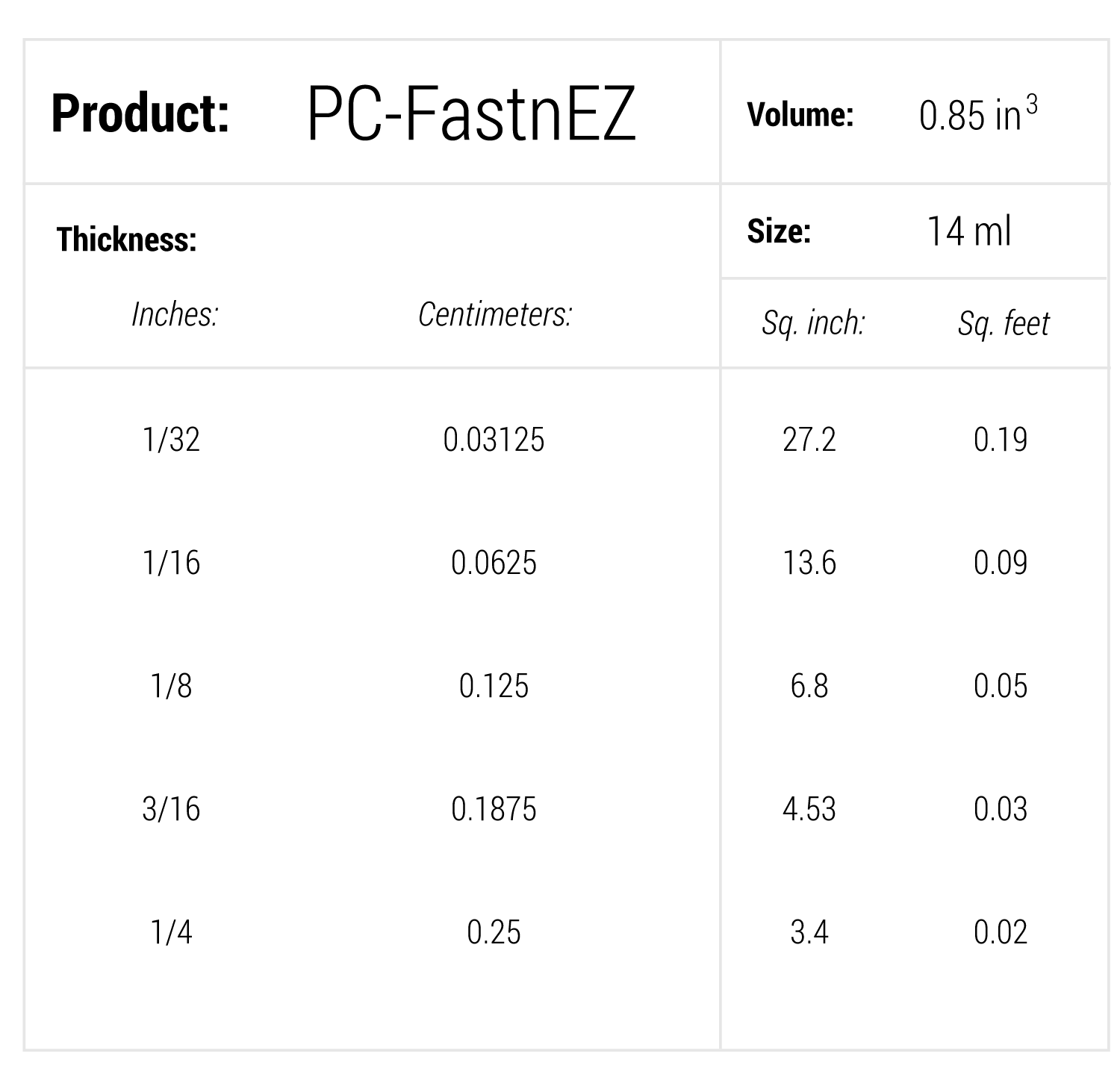 How to prepare a surface for bonding with PC-Fast-n EZ™ Epoxy
Remove contaminants such as dust, dirt, oil and grime with a solvents such as denatured alcohol (ethanol), acetone, rubbing alcohol (isopropyl alcohol) or lacquer thinner. Mild detergent solution in water is also good removing contaminants. Use a clean paper towel or rag for wiping. Do not use mineral spirits or paint thinner for removing contaminants. Remove rust and loose paint with sandpaper or wire brush. Epoxy typically sticks to most paints. If there is a concern of the paint's adhesion then remove it with sandpaper, wire brush or paint stripper. Smooth, glossy and shiny surfaces should be roughened using sandpaper to increase adhesion.
How to clean-up after PC-Fast-n EZ™ Epoxy application
Clean up mixed epoxy before it cures with paper towels and solvent. Denatured alcohol (ethanol), acetone, rubbing alcohol (isopropyl alcohol) or lacquer thinner are suitable solvents for removing uncured epoxy. Cured epoxy can be removed with paint stripper or remover.
503 Service Unavailable
ScrapeAZon could not connect to Amazon or was otherwise unable to retrieve data from Amazon. Please check your Internet connectivity, your ScrapeAZon settings, your country code, and your shortcode configuration.
Certain content that appears on this site comes from Amazon Services LLC.
Can PC-Fast-n EZ™ be used to fasten wood to concrete?
Some epoxies claim to be clear but they have a strong yellow tint that develops PC-Fast-n EZ™ is excellent for attaching wood strips to concrete. Within 30 minutes PC-Fast-n EZ™ reaches functional strength.
Which of your products has the best adhesion to plastics and rubber?
PC-Fast-n EZ™ sticks exceptionally well to SBR and Vinyl rubber and very well to various plastics such as PVC, polycarbonate and ABS.
What size packages is PC-Fast-n EZ™ available?
PC-Fast-n EZ™ is packaged in a 14 ml dual syringe with 2 mixing nozzles. We also are able to package in a 250ml, but minimum quantities are needed.
Does PC-Fast-n EZ™ require additional equipment such as an applicator/gun, mix board or putty knife?
No, the viscosity of PC-Fast-n EZ™ is such that it can be manually dispensed via the supplied static mixing nozzle directly to the repair.
Is PC-Fast-n EZ™ messy?
The two static mix nozzles make PC-Fast-n EZ™ easy to use without the need to cleanup tools or mixing boards. Also, it is not runny.
Does PC-Fast-n EZ™ cure fast?
Yes, expect PC-Fast-n EZ™'s work-life to be over in 10 minutes and functionally cured within 30 minutes.
Can PC-Fast-n EZ™ be mixed on a flat surface or in a container?
Although PC-Fast-n EZ™ is supplied with 2 mix nozzles it can also be mixed with a putty knife in container or on mix board.
Is PC-Fast-n EZ™ a liquid or a paste?
It is more paste than liquid. It does not drip.
Is PC-Fast-n EZ™ brittle?
When PC-Fast-n EZ™ cures, it has a low modulus and is more flexible than most epoxies. It is not at all brittle.
PC-Fast-n EZ™ is translucent, what does that mean?
It means that it permits light to pass through it. However it is more cloudy than clear with a slight shade of yellow.
Can PC-Fast-n EZ™ be used under water?
PC-Fast-n EZ™ withstands exposure to water but immersion in water is not recommended.
Is PC-Fast-n EZ™ suitable for cold temperatures?
PC-Fast-n EZ™ withstands exposure to water but immersion in water is not Yes, PC-Fast-n EZ™ cures down to 35°F (2°C)
The package is clogged
PC-Fast-n EZ™ has a 2 year shelf life. If the syringe has not been previously opened but will not dispense, use a toothpick or small nail to open the passage way. If it remains clogged remove the white plunger from the syringe barrel to remove the epoxy and hardener.
The product in the mixer is cured
Dispose and use the other mixer or mix with putty knife or mixing stick.
Does not stick to Polyethylene or Polypropylene toys
Many toys are constructed of Polyethylene or Polypropylene plastic. These types of plastic cannot be repaired with epoxies.